CyberRegs Login
CyberRegs Customer Care
Phone: +1 303-217-5673
North America: 866-203-3791
CyberRegs is the most comprehensive source of up-to-date regulatory compliance information. As the premier subscription-based environmental, health, and safety regulatory information solution, CyberRegs offers a feature-rich web portal with access to all 50 CFR titles and includes EHS regulatory content from all 50 US states, Canada, and Mexico. This robust document management platform offers a variety of efficiency and collaboration tools to maximize the value of the documents. The same platform can be leveraged for company policies and procedures.
With constant changes in federal and state regulations governing the protection of the environment, occupational requirements and transportation of hazardous materials, making sure your organization is in full regulatory compliance can be a demanding task. We are here to help.
The extensive CyberRegs functionality allows subscribers to receive email notifications on any newly proposed regulations, as well as changes to existing regulations that match individually tailored profiles – doing this with ease, efficiency and accuracy, while reducing your organization's research costs.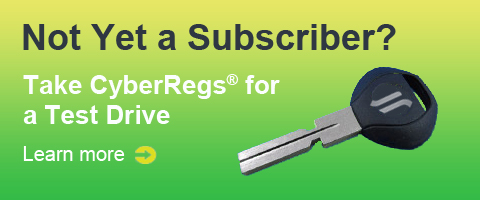 Recent Regulatory Changes
CyberRegs monitors change,
so you don't have to.
Federal Register articles for:
Friday, December 08, 2023
Top Regulatory Documents
Yesterday's most popular document
88 FR 84710
Hazardous Waste Generator Improvements Rule, the Hazardous Waste...